This issue's staff spotlight features one of our Family Violence Victim Advocates, Brandi Kennedy. Brandi helps clients navigate the court system and is the team lead for Office of Victim Services compliance. Brandi's dedication to helping victim-survivors shines through in every aspect of her work. Click here to read the full spotlight!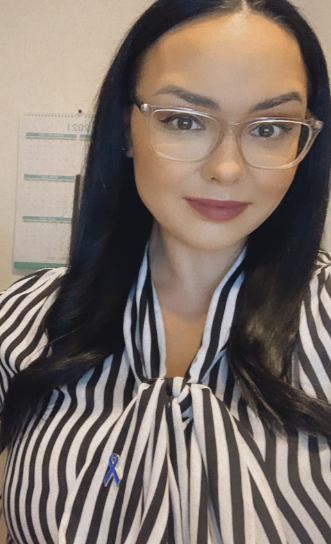 Q. What is your role as a Family Violence Victim Advocate? What does a typical day look like for you?
As a Family Violence Victim Advocate (FVVA) my primary role is to provide services within the Middletown Superior Court to victims of family violence crimes. Some of these services include court support, help with temporary restraining orders, accompanying victims to court, emotional support counseling, safety planning, and advocacy with family relation counselors and state attorneys, as well as legal referrals designed to enhance victims' safety from the time of their abuser's arraignment and throughout the court process. I help the Court Support Services Division Unit recognize victims needs pre- and post-arraignment – ensuring that every victim's voice is heard. My position requires working closely with law enforcement to ensure protective orders and other sanctions are enforced. Lastly, as a FVVA, I lead New Horizon's Office of Victim Services compliance and ensure every victim knows their rights and entitlement to victim compensation if eligibility is met.
A typical day for me consists of reviewing the daily DV docket, organizing files, gathering that day's arraignments and collecting victim input for cases. This includes making contact with all victims listed in the police reports and completing safety risk assessments. I typically stream into virtual court and gather all the arraignment outcomes to call the victims back with the information and then correspond with the state attorney's office to see which cases need updated input from the victim. There are days that I attend multiple meetings, hold conferences with victims and their legal counsel, conduct research for New Horizons' social media content, participate in event planning, and ensure that New Horizons' stakeholder voices are represented in the Connecticut Coalition Against Domestic Violence's priority legislation to advocate for changes that improve current IPV statues. I spend a lot of time on the phone speaking with victim-survivors, on Zoom, researching, and advocating for change in systems outside of but that directly impact the field of intimate partner violence.
Q. What drew you to working with victim-survivors of intimate partner violence?
My drive to work with victim-survivors of intimate partner violence comes from a very personal place. I survived a home that would be considered a combat zone with frequent IPV. I left home at 16 to escape abuse and have lived on my own since. By 18, I had experienced my own IPV relationship where a firearm was held to my head and left me with feelings of anger, shame and fear for many years. The cycle of abuse is very real, and when we are not provided the tools to understand the red flags or live in homes where violence is normalized, we often perpetuate the cycle. During my undergraduate experience, the professor for my Women & Violence class introduced me to the idea of a "Take Back the Night" event, and I felt empowered by this movement. In 2010, I worked with UConn to host this event on campus where I spoke my survivor story. I was completely shocked by the turnout and the many survivor stories that echoed through the space. Through community, studying trauma and its impact on the brain and understanding my own history with IPV, I applied to the UConn School of Social Work to complete my Master's degree. I learned that I could process my shame, affect change and work to advocate for the use of evidence-based, trauma-informed interventions in macro systems.
Q. What inspires you about your work in the intimate partner violence field?
As a MSW Policy Practice graduate student, political advocacy is extremely important to me in my intimate partner violence work. I strive to address issues and concerns that demand change on the state policy level and work within the intersections of DV/IPV, disabilities, human trafficking and international femicide. I absolutely love to research and spend many hours in all the aspects of my life between work and school researching intergenerational trauma, national and international policy and therapeutic modalities. I am also inspired to create a safer world for my daughter and son. Lastly, what inspires me the most is getting to work and bond with my clients and helping them through some of the worst experiences of their life – being trusted to listen to their stories, validating their emotions and helping to empower them through their fear, anger and shame.
Q. What advice do you have for possible clients who are looking for assistance from New Horizons?
The best advice I could give clients who are looking for assistance from New Horizons would be that abuse thrives in silence. We cannot change what we do not acknowledge. Sometimes we are not ready for change and that is okay – our advocates are here for you if and whenever you want to talk, vent or cry. We understand how powerful shame can be, and it often inhibits us from reaching out for connection and keeps us isolated in our most vulnerable moments. IPV comes in many forms and the verbal, emotional, psychological, and financial forms can break down a person's will. Community can be empowering and we will welcome you into our healing community with open arms.
Q. What are you hopeful for in terms of a future without intimate partner violence?
My hope is that we'll soon live in a nation where the societal norm is that people understand that behavior equates to the function of the person within their environment. If we understand this concept, we can end the stigmas against mental health and therapy. I truly believe that in order to end domestic and intimate partner violence we need to address all the risk factors associated with the perpetuation of it. These risk factors include poverty, low self-esteem, unemployment, attitudes accepting or justifying violence, unplanned pregnancy, isolation, the belief in traditional gender norms and gender inequality, cultural norms in respect to femicide and lastly, weak health, educational and social policies and laws. Ending intimate partner violence is going to take advocates in all arenas working towards incremental change. It is a lot of work, but we get into this work because we have hope.