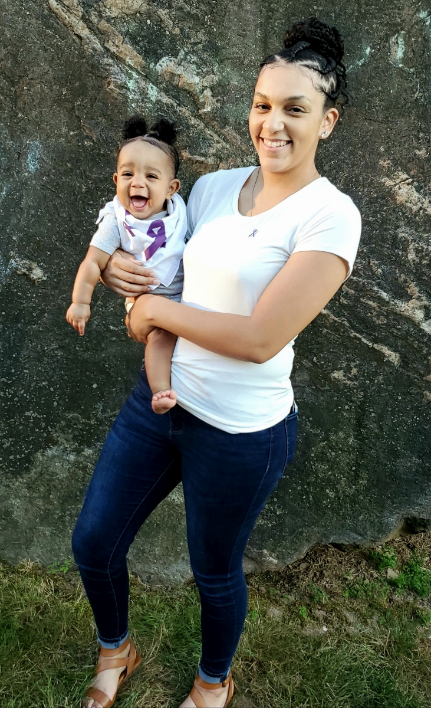 Meet one of our Adult Advocates, Donika Freeman! In this staff highlight, Donika discusses her work, her experiences, and the importance of having court advocates to assist victims of domestic violence.
Q. What is an adult advocate? What does a typical day look like for you?
A. As an Adult Advocate, there really aren't any "typical" days. Each day brings on something new; a new challenge, a new story, a new opportunity to make a difference is someone's life. In fact, the only constant each day is that there is a survivor in need of help after being controlled, manipulated, and hurt by someone who was supposed to love them. So my job is to listen to each individual and their story, and focus on client-centered advocacy based on what the survivor believes is best and safest for them. Sometimes that may mean assisting with finding an emergency safe house for a survivor who wants to leave their abusive partner; while other times that may mean safety planning with a survivor who is not yet ready to leave. In many instances, survivors may have been financially abused or not allowed to work and so when they do come to our safe house, they are starting from scratch. In that case, I may be assisting in providing basic needs thanks to generous donations from the community, or helping connect them to education and employment resources so that they can take control of their life again. Some of the best times though, is when I get to take part in helping a survivor move out of the safe house into an apartment of their own, knowing the strength, determination, and fight they went through to get to that point; or when I get to take the stress off of a survivor or family by taking them to a planned outing, creating at least some kind of normalcy and being able to put all the stress of the abuse, housing, parenthood, income, and so on, aside for just a moment.
Q. What drew you to becoming an adult advocate?
A. First and foremost, I believe that God guides me and places me where I need to be, to complete the specific work he has created me for. I also have a natural desire to help people; it is what I was born to do and what I am truly passionate about. However, what truly drew me to becoming an Adult Advocate in particular, are some of my personal experiences. They allow me to not understand, but be able to relate to some of the survivors' experiences and therefore know the importance of the services that we offer.
Q. What inspires you about your work in the domestic violence field?
A. I think what inspires me most is the resiliency of the survivors. There are some really difficult stories and traumatic situations that survivors have been through, and yet they still have such strength to persevere and move forward with their lives.
Q. What advice do you have for possible clients who are looking for assistance from New Horizons?
A. Please do not wait to call us. Listen to your head and not your heart. Waiting may cost you your life or at the very least, result in further injury whether it be physical or emotional. Also, abuse is abuse – do not downplay it. We will help every step of the way, from understanding what domestic violence is, to planning your escape and the next chapter in your life. You are worthy of safety, peace, love and happiness; do not let anyone make you feel otherwise.
Q. What are you hopeful for in terms of a future without domestic violence?
A. I am hopeful that there will be an end to stigmas surrounding domestic violence, and that there will be more widespread sensitivity training for professionals interacting with survivors, so that survivors are less likely to be re-traumatized. I am also hopeful that there will be a heightened awareness and community engagement regarding domestic violence, including training for individuals to learn how to help their clients, neighbors, friends, co-workers, classmates, and so on who are experiencing domestic violence. Lastly, I am hoping for a growing focus on prevention programs so that youth can learn early about how to engage in a healthy relationship and know the signs, and what to do, when they are in an unhealthy relationship. This may also help to end the sometimes intergenerational cycle of domestic violence.