Domestic Violence Awareness Month 2020
October is National Domestic Violence Awareness Month. During this month, people across the country participate in activities and events to honor victims, celebrate survivors and raise awareness as we work towards the goal of ending intimate partner violence.
New Horizons has several activities planned for #DVAM2020. Follow along with us on Facebook, Twitter and Instagram @NewHorizonsDV.
Walk to End the Silence
Thank you for joining us for the 2020 Walk to End the Silence.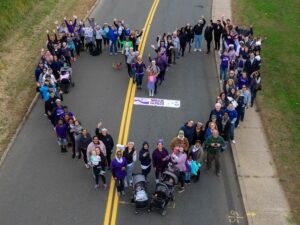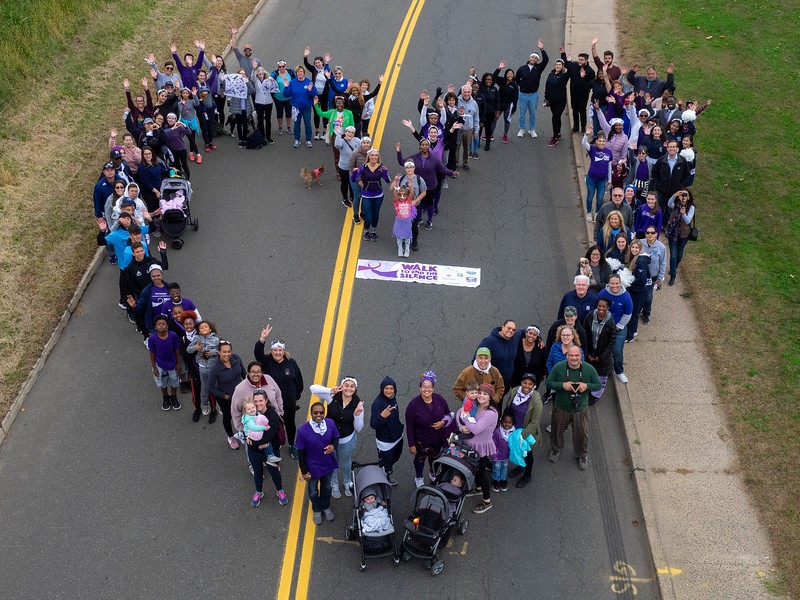 Visit the New Horizons Facebook page (@NewHorizonsDV) for the video from the virtual program. 
Each year we walk to honor all of our neighbors and raise awareness of those affected by intimate partner violence. Due to COVID-19, we were unable to come together in person this year. However, using today's technology still made an impact to recognize & break the cycle of abuse.
You can still support us virtually by walking with your family and friends and sharing your photos or videos with us before Oct. 31.  Submit the $25 registration fee yourself (click the Donate button) OR encourage your network to pledge your walk by becoming a fundraiser.
Complete your registration online and receive a free bandana to wear for your walk! Email [email protected] with your mailing address and "WTES 2020" in the subject line so we can mail you your bandana(s).
Then show your support by wearing purple and the New Horizons bandana for a video or picture. Share it on social media (make sure your post is public!), and tag New Horizons (@NewHorizonsDV) and Community Health Center (@CHCInc on Facebook and @CHCConnecticut on Twitter).
Your pledge will help support the many services offered by New Horizons including:
Emergency shelter
Food and basic necessities
Court advocacy and support
Individual and group therapy and counseling
Community education
And more
The Survivor Storytelling Series
One of the most powerful tools that we have to end domestic violence is the stories we tell. When survivors share their stories, we normalize talking about intimate partner violence and empower other victim-survivors to find the help that they need.
Earlier this summer, we asked those who have experienced intimate partner violence to share their stories with us. Ten survivors of relationship violence responded through recorded video and written testimony, and we are sharing their stories with you throughout Domestic Violence Awareness Month.
Throughout the month of October we will share their stories on our social media pages @NewHorizonsDV.
Follow us on social media to hear these incredible stories of strength, healing, and courage when leaving a life of relationship violence.
And to the survivors who shared their hearts with us, thank you.
Survivor Story: Shanay
Shanay's story highlights the importance of relying on those we love to help us survive relationship violence.
Misty's story shows that ending intimate partner violence is an issue that impacts all of us no matter where we live.
The Purple Hearts Project
New Horizons serves victim-survivors of relationship violence in all 15 towns of Middlesex County and we provide consultation for all Community Health Center locations.
Part of ending the silence on violence is acknowledging that relationship violence can happen in our towns too. The Purple Hearts project is an effort by New Horizons advocates to bring awareness of relationship violence to the local communities we serve. We partnered with town libraries in Middlesex County to host lawn signs with purple hearts that say "Domestic Violence Happens Here Too."
We encourage you to drive by the signs, take pictures, and share them on social media with the hashtag #purpleheartsproject. Share your posts with @NewHorizonsDV on Facebook, Instagram, and Twitter. Use those signs to start a discussion with friends and family about how relationship violence impacts your community.
Watch this space for updates from all Domestic Violence Awareness Month 2020 events, including the Walk to End the Silence, the Survivor Storytelling Series and the Purple Hearts Project.